New, online version of this test :: Answer Keys :: Tapescript
Section 1
Questions 1-5
Choose the correct answer: A, B or C.
Write your answers in boxes 1-5 on your answer sheet.
1 What is the caller's surname?
A Fleischer
B Fischer
C Bennett
2 The caller says the correct colour of his car is
A Sky blue
B Light green
C White
3 What time does the caller say he went to collect his car?
A 9:30pm
B 8pm
C 8:30pm
4 Where does the caller usually store the front panel of his radio?
A In his pocket
B The hospital
C In the glove compartment
5 What does the advisor say she will send through the mail to the caller?
A A radio
B Some CDs
C Some forms
Questions 6-10
Complete the notes below.
Write NO MORE THAN TWO WORDS AND/OR A NUMBER for each answer.
Write your answers in boxes 6-10 on your answer sheet.
Insurance Claim Report
CUSTOMER FIRST NAME: Bennett
POLICY NUMBER: 6 _____
TYPE OF CLAIM: Stolen 7 _____
PLACE WHERE OFFENCE WAS REPORTED: York 8 _____ Station
CUSTOMER AWARE OF THE DANGER: No
OTHER ITEMS STOLEN: Car radio, CDs and an old 9 _____
DOCUMENTS REQUESTED TO SUPPORT CLAIM: Police report and 10 _____
Section 2
Questions 11-13
Complete the sentences below.
Write ONE WORD ONLY for each answer.
11 There are two entrances to the _____.
12 The first section you enter when leaving the staff room is the _____.
13 The _____ pass through the dungeons as a group.
Questions 14-18
Complete the labels on the map.
Write NO MORE THAN TWO WORDS for each answer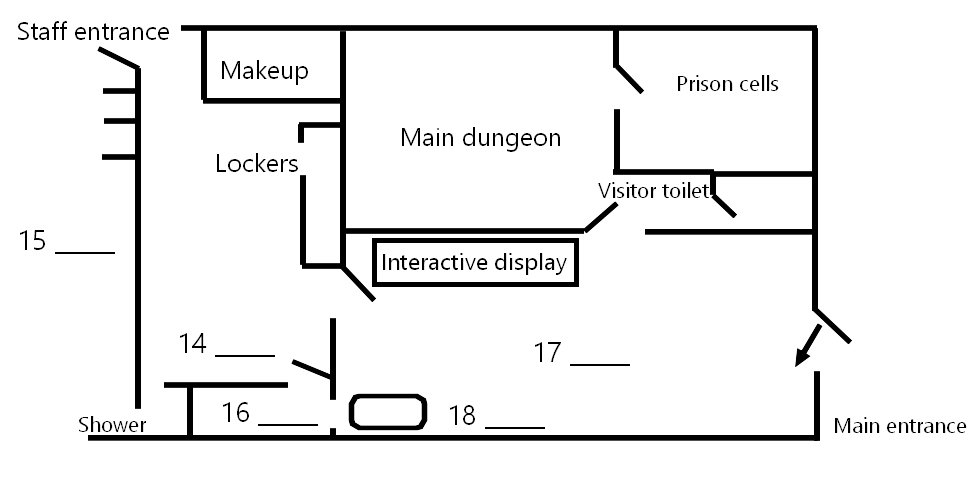 Questions 19, 20
Choose TWO letters, A-E.
What are TWO things the speaker suggests the employees should do to help visitors?
A help to carry their bags
B guide them if they have gone the wrong way
C talk to them in a strange accent
D scare them so they have a more authentic experience
E answer any questions they might have

Click to download this IELTS Listening Test in PDF