IELTS stands for International English Language Testing System. IELTS is the most popular test of English language according to wikipedia.org with over 3.5 million test-takers in 2018.
Exam Structure
IELTS exam is divided into four parts: Listening, Reading, Writing and Speaking. The parts come in the same order. Now lets have a look at each part in more detail.
Listening: 4 sections, 40 questions total. Lasts for 30 minutes
Reading: 3 sections, 40 questions total. Lasts for 1 hour
Writing: 2 pieces of writing, 150 and 250 words long. Lasts for 1 hour
Speaking: 3 sections. Lasts for 12-15 minutes.
General and Academic Modules
IELTS test has two different modules (or types): General and Academic. You have to choose one depending on the purpose you take your IELTS test. In 2014 over 75% of test-takers chose Academic for their test.
Academic module is aimed at people who intend to study abroad for their so-called tertiary degree— universities and colleges. General module is mostly for people planning to work abroad, get their secondary education there or emigrate. For more detailed information on Academic and General module check this part of IELTS Reading page.
IELTS Score
Your exam results are scored from 1 to 9 in 0.5 increments, called Band. See the table below for IELTS score comparison with other English exams.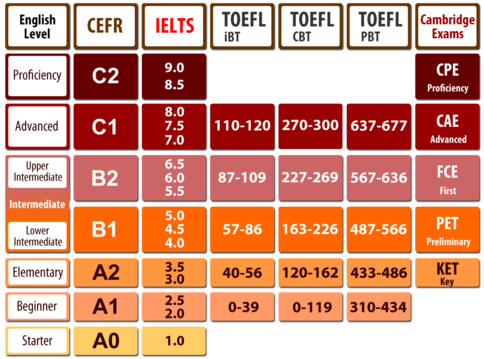 Reading and Listening score is based on the number of correct answers. Writing and Speaking parts of IELTS have four different assessment criteria.
IELTS Test Procedure
Before the exam starts, you get a small plastic bag to put your personal belongings in (your phone, watch and so forth). Each student is seated individually at a small table. At the beginning of each exam part you are given instructions in your native language and you are free to ask questions.
For your Listening and Reading parts, you have to fill in your Answer Sheet form. After that each test-taker gets an envelope with the task that shouldn't be opened before the exam starts. The supervisor confirms that everyone has filled in their form, then you get to open your task envelopes and the exam time starts. During your Writing part the teacher occasionally announces the remaining time you have. Both Writing and Reading parts have a clock in the room that you can use to time yourself.
Cheating is virtually impossible as there are people monitoring you all the time, moving between the isles. It is possible to have bathroom breaks at the expense of your exam time. Keep in mind that a member of monitoring staff will accompany you. At the end of the exam the staff member hand out forms that allow you to report cheating that you might have noticed during the exam.
IELTS Results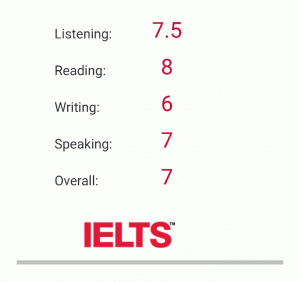 Your test results can be checked at IELTS official test results page 14 days after completing all four parts of the exam. You should be able to get your Test Report Form from the place your test-taking centre at about the same time.
You can choose up to five organisations that will get your IELTS test result score. This can be useful when applying for several colleges or universities.
Keep in mind that you won't get an extra Test Report Form should you lose or damage yours.
The best way to prepare for your test is to know the structure of each part and then do as many practice tests as you can.
Do you really need a teacher to prepare for your IELTS test? Read this entry for some insight.