CAE Speaking consists of 4 parts and lasts for 15 minutes. This part normally involves two candidates, so you will have a speaking partner, a test-taker just like you. There are also going to be two assessors – one asking the questions and showing the cards, and another only assessing responses. This page will guide through structure, present sample tasks with answers, provide phrases, templates and tips to bump your CAE Speaking score higher! Use the menu below to help you navigate to the part you're interested in.
1. Part 1 – Conversation between the assessor and each test-taker (2 minutes)
— 1.1 Part 1 sample questions with answers
2. Part 2 – Describing pictures. Long and short turns (3 minutes)
— 2.1 Part 2 sample pictures with answers
— 2.2 Part 2 tips and useful phrases
3. Part 3 – Discussion between candidates and reaching an agreement (discussing a mind-map) (3 minutes)
— 3.1 Part 3 sample mind-maps with answers
4. Part 4 – Discussing questions related to Part 3 topic (up to 5 minutes)
— 4.1 Part 4 sample questions with answers.
5. CAE Speaking assessment criteria
CAE Speaking Part 1 – Examiner and test-taker conversation
The first part consists of general questions such as "Why did you decide to take this exam?", "How long have you been studying English?", "What do you think is the best about your country?" and so forth. The questions then take a widened scope, the candidates are asked about their life, hobbies, plans and so on. The examiner asks both test-takers in turns. Test-takers do not get to answer the same questions. This part takes about 2 minutes.
Your responses shouldn't be too long and will generally be as long as two or three sentences. Don't get too carried away with the answers, you will have opportunity to give more detailed responses in next parts of the exam. However, do explain and develop your responses. Give the examiners something to assess – they are interested in your command of English. They probably don't care much for your hobbies or food preferences.
Unlike other parts of CAE Speaking, Part 1 doesn't really have any templates or useful phrases to learn. It's just general English. A good thing is not to repeat yourself – you wouldn't believe how many test-takers overuse words like very or other words that could by synonymised.
Part 1 sample questions and answers
More CAE Speaking Part 1 sample questions with answers
Where are you from?
I'm from Germany, however I was born and raised in Warsaw, Poland. My family moved to Stuttgart when I was five and I've been living there ever since. It is a lovely place with spectacular architecture, rich cultural heritage and generally a great place to live in.
Do you have any hobbies or interests?
I'm really into road cycling. I used to participate in amateur competitions when I was at school, I would consistently come in top three! Unfortunately, I haven't got nearly enough time nowadays for any hobby that requires commitment. With my tight current schedule I'm lucky to have thirty minutes a day to read a book.
How long have you been learning English?
I've had English classes since I was seven, but I really started to apply myself in this field when I turned sixteen – I really wanted to get a degree in a prestigious university in England. Naturally, one has to have impeccable command of English to have a shot at such an ambitious plan.
What do you find most challenging about learning English?
Grammatically, it has to be articles and prepositions. My native language doesn't really have the former, so it is a foreign concept to me, it took me a while to figure them out. As for prepositions in English, they take a lot of time to get right as they don't really work the way they do in my language.
CAE Speaking Part 2 – Individual Long Turn
There are going  to be two people – Candidate A and Candidate B – these roles are assigned randomly. Candidate A gets a set of three pictures from the examiner. The examiner then asks Candidate A to look at the pictures and answer two questions he provides. The questions can be something like "What could this people be thinking about?" and "In which situation might the people be feeling more comfortable?" with three pictures of persons in different situations. Candidate A has to choose two of the three pictures and they will have 1 minute to answer the questions.
Then the examiner reads one additional question to Candidate B using the same pictures. This time they have to choose only one picture and spend 30 seconds for the answer.
After that the candidates swap roles, Candidate B goes first with two questions and three new pictures and Candidate A gets one question and half a minute to answer it.
CAE Speaking Part 2 tips and useful phrases
CAE Speaking Part 2 is about four things:
1 – comparing (talking about similarities and differences between the pictures)
2 – speculating (making guesses about what is going on in the pictures)
3 – describing
4 – answering the questions
1. Comparing
This aspect of CAE Speaking Part 2 is really straightforward – we highlight similarities and differences in both photos. The only difficult part might be finding a good phrase or a template to talk about this. Here are some useful phrases for that:
Talking about similar things
Talking about differences
Both pictures show…
In both pictures we can see…
Both pictures one and two have…
Pictures one and two are similar in the way that there is/are… in each one.
Just like the picture on the left, the right picture has/shows…
The two pictures have a number things in common, namely…
These two pictures convey the same message/idea of… // share the same message/idea
Unlike the first picture, picture two has/shows
In contrast with the right picture, picture on the left has/shows/displays
Picture one…, while picture two…
Conversely, picture two…
Picture on the right shows a different approach to…
While the second picture takes place…, picture one…
Contrastingly, these pictures show different takes on… *some topic*
The comparison part can be extremely challenging if you choose two pictures that you can't see any real differences in – keep that in mind when making your choice.
2. Guessing and speculating
You have to do this when answering the questions and when you describe the pictures. Showing doubt or uncertainty is one of the integral CAE Speaking Part 2 & 3 aspects.
Modals
Verbs
Adverbs
This must be…
It might be…
The people may be…
It has to be
Seem like/to be
Appear to be
Look like
Likely
Probably
Seemingly/supposedly
Apparently/evidently
3. Describing the pictures
When describing pictures in CAE Speaking, alternate between different phrases:
The first picture has/shows/displays
In the first picture, there is/there are/we can see
One thing to remember – don't get spend more than 15 seconds on describing BOTH pictures. Another important aspect is not to just describe – you would want to include either comparing them or speculating:
"While in the first picture there is a man all on his own looking at a picture, the second one shows a group of kids, probably schoolchildren, enjoying a show together."

The part in bold introduces comparison and the underlined part speculates (makes a guess) about the picture
4. Answering the question
When you address the questions from CAE Speaking Part 2, you usually do so for both pictures, either talking about differences or similarities based on the question context. You are advised to speculate as well to make your answer more hypothetical since we can't really know it for sure. See examples below for reference.
Part 2 sample questions and answers
More CAE Speaking Part 2 sample questions with answers
[su_note note_color="#ffffff" text_color="#000000″ radius="0″]
Set #1
Candidate A, here are your pictures. They show people having a nap.
I'd like you to compare two of the pictures, and say why they might have chosen to sleep like that, and how difficult it might be for them to relax.
• Why might these people have chosen to sleep like that?
• How difficult might it be for them to relax?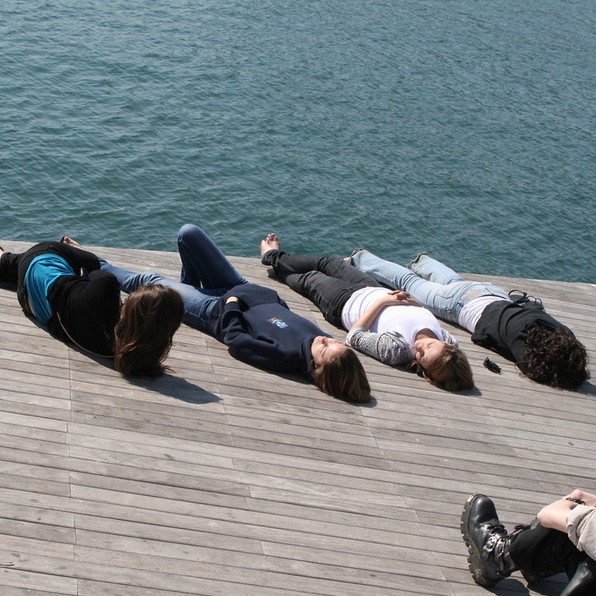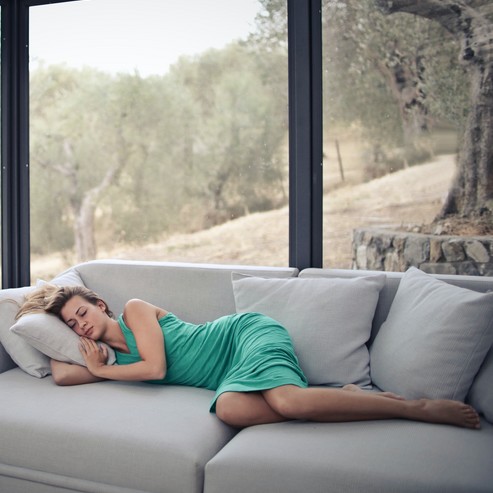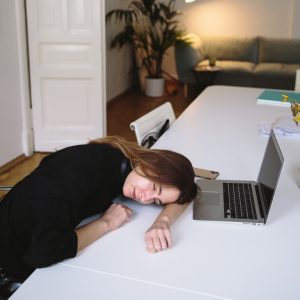 Sample answer
Candidate A: I'll be comparing the top picture and the bottom right one. The group of people in the top photo seem to be sleeping at something that looks like a pier. It's hard to guess what exactly they are doing there – they might have come here to have a quick snooze after classes. The lady in the other picture seem to be exhausted from work – she must be so tired she doesn't even realise she is sleeping on her desk. 
I'm pretty sure that neither of the situations are comfortable for sleeping – the pier's boards are not the best surface to lie on. The person in the bottom right picture is probably feeling marginally better, seated on her chair with her head resting on her wrist.
Candidate B, in which situation do people need to rest the most?
Candidate B: I'd have to choose the picture with the young lady sleeping next to her laptop. Obviously, it wasn't her first choice of place to doze off – she must be absolutely knackered from all the work, otherwise she wouldn't sleep there. She's probably catnapping, only to continue on her project as soon as she wakes up.
---
Set #2
Candidate B, here are your pictures. They show people learning new things.
I'd like you to compare two of the pictures, and say what they might find enjoyable about learning, and how effective their learning is.
• What might they find enjoyable about learning?
• How effective is their learning?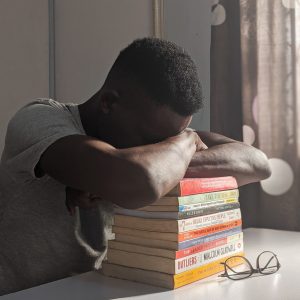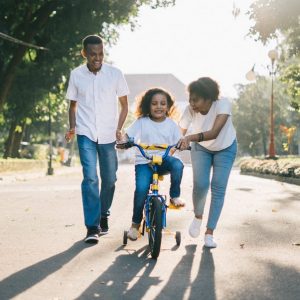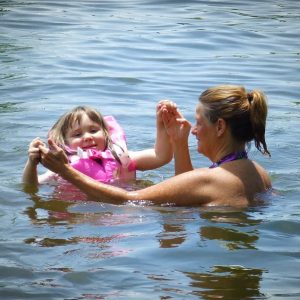 Sample answer
Candidate B: I'm going to talk about the picture with the young guy leaning on a pile of books and the child learning swimming. Both capture people in the middle of learning, however one focuses on the academic knowledge, while the other shows on a more practical skill. The guy, who seems to be a college students, doesn't seem to be that happy – in fact, he is anything but happy, he looks pretty tired from all the rote learning. The little girl, on the contrary, is visibly elated to try the thing new to her – swimming.
I believe that the girl wearing the float suit is mastering the new skill in a much more effective way for two reasons – she's happy to do it and she's very young. Young kids are like sponges, taking in new information and processing it more effectively than teenagers and adults.
Candidate A, in which picture the person is going to benefit from the new skill the most?
Candidate A: Without a doubt, it is going to be the guy with the books. One's academic performance is directly reflected in their quality of life, so the harder he studies, the better off he'll end up in the future, both financially and in the more general sense. He probably knows it and that is why he works himself into exhaustion to the point of dozing off on the stacked pile of books.
---