CAE Speaking Part 3 (Collaborative Task) samples and useful phrases and ideas for your answers. If you are unsure what should CAE Speaking Part 3 answers have, check this explanation. You can save it in PDF or print using the button at the bottom.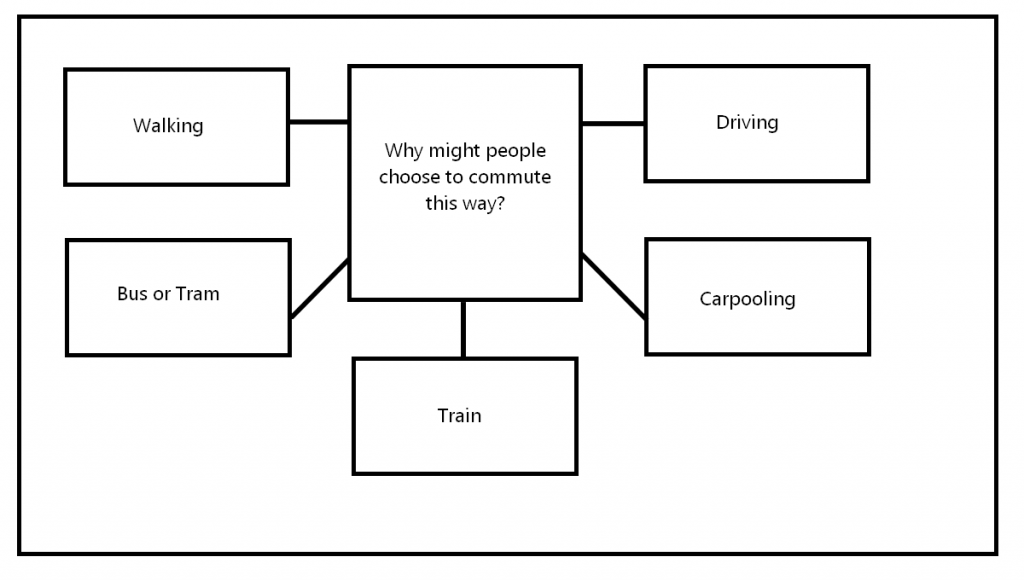 Extra question: which way of commuting might be most popular in rural areas?
CAE Speaking Part 3 Useful Phrases
Walking
Bus or tram
Train
Driving
Carpooling
– Walking is free – or almost free. All you need is a pair of comfortable shoes
– Walking to work or place of study takes exactly the same amount of time as you are not dependant on traffic congestion. This makes it more reliable
– It is a nice, gentle form of exercising
– Commuting by bus or tram is quick and affordable
– Bus lanes make getting somewhere quick even during rush hour
– Using public transport shows environmental awareness and that you care about the planet
– You can read or listen to the music en route
– Trains never suffer from traffic congestion, although they might be overcrowded during peak times
– Trains always run on schedule so you can plan your day more effectively and reliably
– Arguably, trains can be more comfortable than cars and buses as they maintain constant speed throughout the way without having to accelerate or slow down
– Probably one of the most expensive ways to commute, driving offers unmatched personal freedom
– It is most convenient for big families with kids as they have to be taken to places like school or kindergarten
– Some people find the process of driving a car enjoyable in itself, without going somewhere in particular
– Affordable and environmentally friendly
– Carpooling encourages socialising and bonding with your colleagues/fellow students
– Both driver and the passengers benefit if they chip in to pay for fuel
– Makes the commute more fun when there are more people in the car

Click to download this CAE Speaking Part 2 Worksheet in PDF. Don't forget to switch to landscape mode when printing!