Section 2

Questions 11-16
Complete this summary of the welcoming speech.
Write NO MORE THAN TWO WORDS AND/OR A NUMBER for each answer
Dear Joe,
You missed the Welcome meeting. We were greeted by the principal of Donleavy 11 , who explained how the university has 12 campuses.
He told us where all the important buildings on this campus are and also explained which subjects are studied on the other two. The principal's 13 is on our campus. Weekly 14 are held in the Office and Administration Block every Tuesday at 1:30 p.m., and we are encouraged to attend. The university shop sells all the 15 and stationery we might need, and you can find it next to the cafeteria.
Remember, we must carry our 16 to get into the campus.
Regards,
Rebecca
Questions 17-20
Complete the labels on the buildings in the map.
Write NO MORE THAN TWO WORDS AND/OR A NUMBER for each answer
17
18
19
20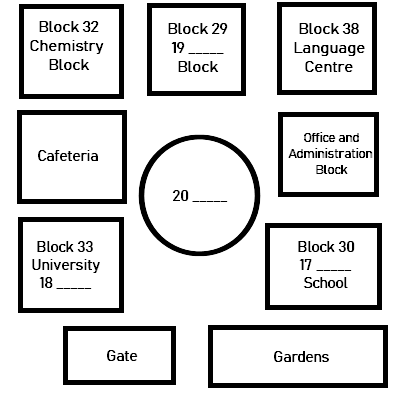 For this task: Answer Keys :: Tapescript