New, online version of this test :: Answer Keys :: Tapescript
Section 1
Questions 1-6
Complete the form below.
Write NO MORE THAN TWO WORDS AND/OR A NUMBER for each answer.
PET PROTECT UK
Type of pet: 
dog  cat  rabbit
Pet's name: 1 _______
Pet's D.O.B.: 2 _______, 2013
For Dogs Only
Is the dog a guide dog?  No
Has the dog been neutered? 3 _______
Type of dog: 4 _______
CUSTOMER DETAILS
Name: Peter 5 _______
Address: 27 Cherry Drive, NW8 2HD
Phone Number: 6 _______
Questions 7-10
Complete the table below with NO MORE THAN ONE WORD OR A NUMBER.
Type of Insurance
Fees
Basic
£8 p.c.m.
Premium
7 £ _____ p.c.m. for first 6 months, then
up to £18*
Ultra Premium
£ 5 p.c.m. for first 6 months, then up to
£20
* (if expenses claimed do not exceed £300 the fee drops to £ 8 _____ )
Please be advised that your pet's documents and 9 _____ must be checked before we proceed with an insurance agreement. All three insurance plans cover 10 _____ fees.
Section 2
Questions 11-14
You are going to hear an induction given to a group of students at a summer school. Complete the sentences below.
Write NO MORE THAN THREE WORDS for each answer.
11 Jasmine Climb founded her school on a quiet and isolated site because she appreciated the _________ of such places.
12 When the school was first founded, it had neither trees nor a _________ .
13 The students listening to the speech will be staying at the school for _________ .
14 The programme for the students' first day will culminate with a _________ .
Questions 15-20
Complete the plan below using NO MORE THAN TWO WORDS for each answer.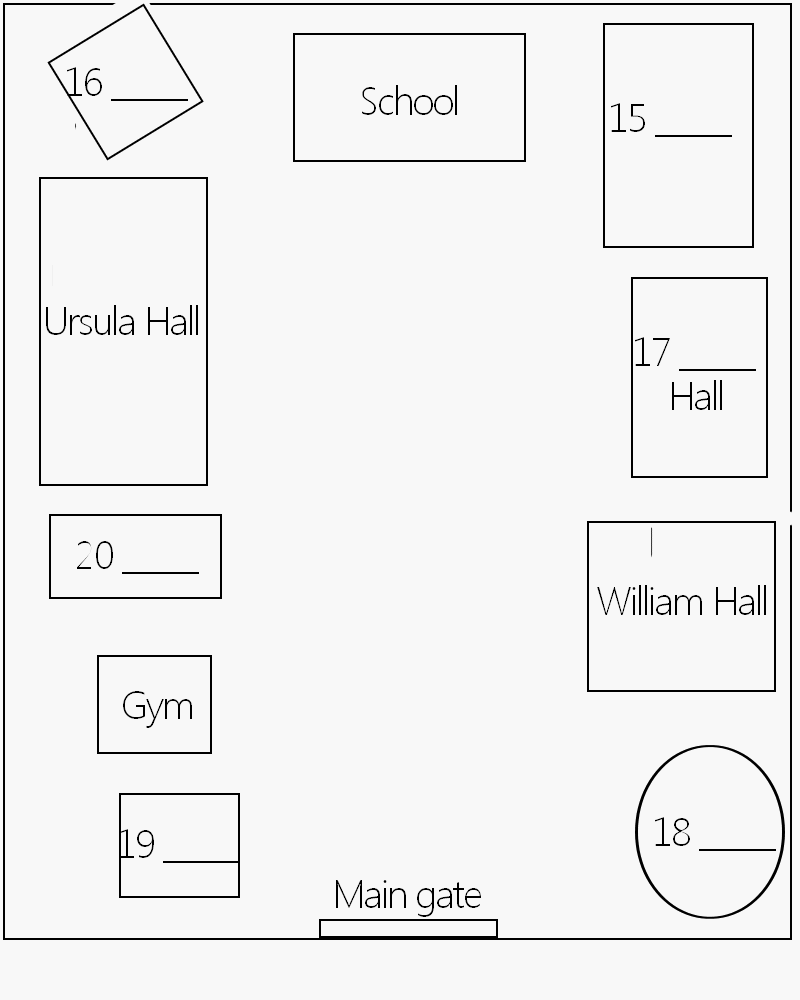 Click to download this IELTS Listening Test in PDF