CAE Speaking Part 3 (Collaborative Task) samples and useful phrases and ideas for your answers. If you are unsure what should CAE Speaking Part 3 answers have, check this explanation. You can save it in PDF or print using the button at the bottom.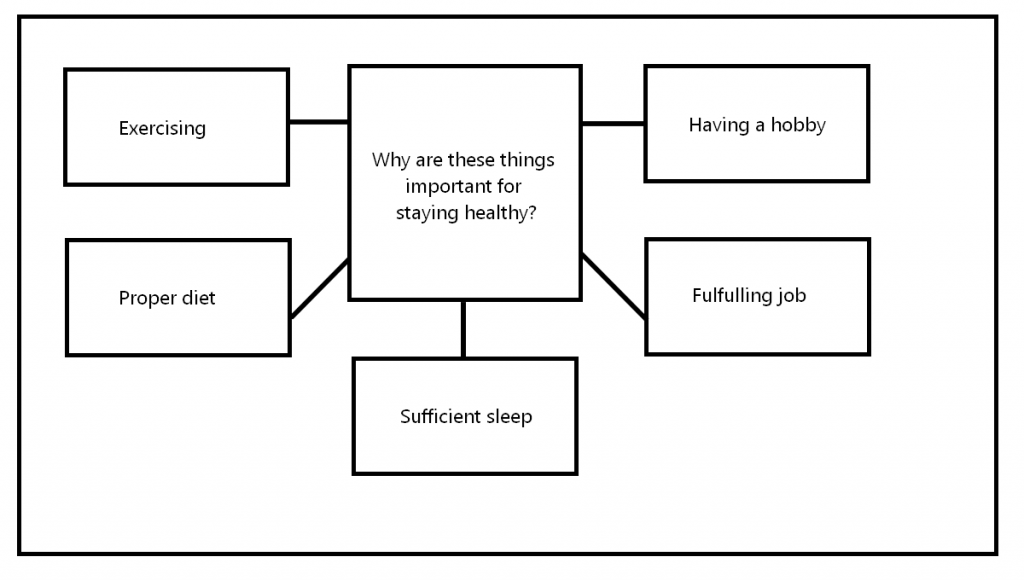 Extra question: which thing is most important for health of older people?
CAE Speaking Part 3 Useful Phrases
Exercising
Diet
Sleep
Job
Hobby
– Even brief periods of physical activity are proven to improve both health and mood, provided they are done regularly
– Exercising in the morning energises you for the rest of the day, which contributes to overall well-being
– A balanced diet helps avoid and overcome many illnesses
– On the contrary, poor choice of food can be a cause of numerous conditions related to stomach and digestive system
– Nutritious diet rich in vitamins also helps to stay in good, cheerful mood
– Maintaining a regular sleep cycle is vital for people's physical and mental health
– Sticking to natural circadian rhythm ensures maximal productivity
– Another easy way to guarantee optimistic mood is to get enough bedtime.
– A job that brings joy as well as puts bread on the table is probably everybody's dream
– Having a job creates a sense of purpose
– Job offers different social context, introducing you to new people both in the form of colleagues and clients. This is known to have beneficial effect on health
– A hobby is a nice way to introduce some variety to your life routine
– It is a great way to relieve stress – one of the main reasons for poor health for people in their thirties and older

Click to download this CAE Speaking Part 2 Worksheet in PDF. Don't forget to switch to landscape mode when printing!