CAE Speaking Part 3 (Collaborative Task) samples and useful phrases and ideas for your answers. If you are unsure what should CAE Speaking Part 3 answers have, check this explanation. You can save it in PDF or print using the button at the bottom.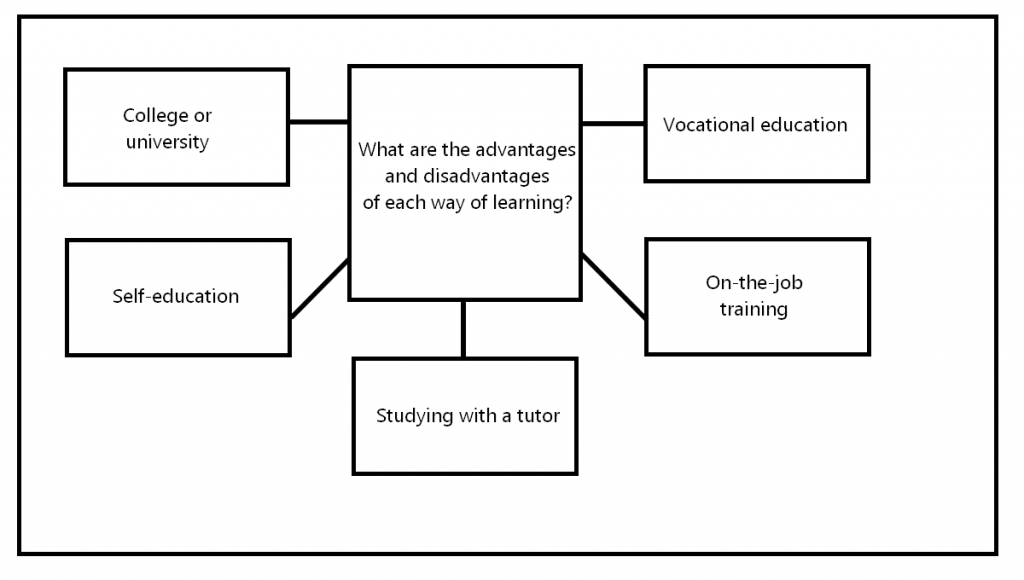 Extra question: which approach is most cost-efficient?
CAE Speaking Part 3 Useful Phrases
College, Uni
Self-education
Tutor
Vocational
On-the-job
+ Provides fundamental, in-depth understanding of the subject
+ After graduating, you are given a recognised proved of your qualification in the form of a diploma
– Takes years to finish
– The knowledge and information provided can become outdated or difficult to apply in real life
– Can get very expensive, many people live paying off college loans many years after graduating
+ Little to no associated costs
+ Can be done from home or anywhere else, at the time of your convenience
+ The intensity and workload is controlled by you alone
– Requires a great deal of self-control, motivation and self-organisation
– No proof of qualification which can be required by your employer
+ Personalised approach to your studying needs
+ Classes at time and place that are best for you
+ Experienced guidance from a qualified specialist
– Can be expensive
– Just like with self-education, no proof of qualification is provided afterwards
+ Highly-specialised courses that target particular skills or trades
+ Doesn't take too much time so you can start working sooner
+ At the end of the course you are normally given a certificate or other paper that proves the fact of participation in the programme
– The resulting qualification has limited application, usually in one or two fields
+ Only gives you skill and knowledge that will be directly relevant to your duties
+ It is combined with doing work, so you don't have to lose time and money on studying
– The knowledge that you get is very specific and can only be used for that one particular time of job

Click to download this CAE Speaking Part 2 Worksheet in PDF. Don't forget to switch to landscape mode when printing!