CAE Speaking Part 3 (Collaborative Task) samples and useful phrases and ideas for your answers. If you are unsure what should CAE Speaking Part 3 answers have, check this explanation. You can save it in PDF or print using the button at the bottom.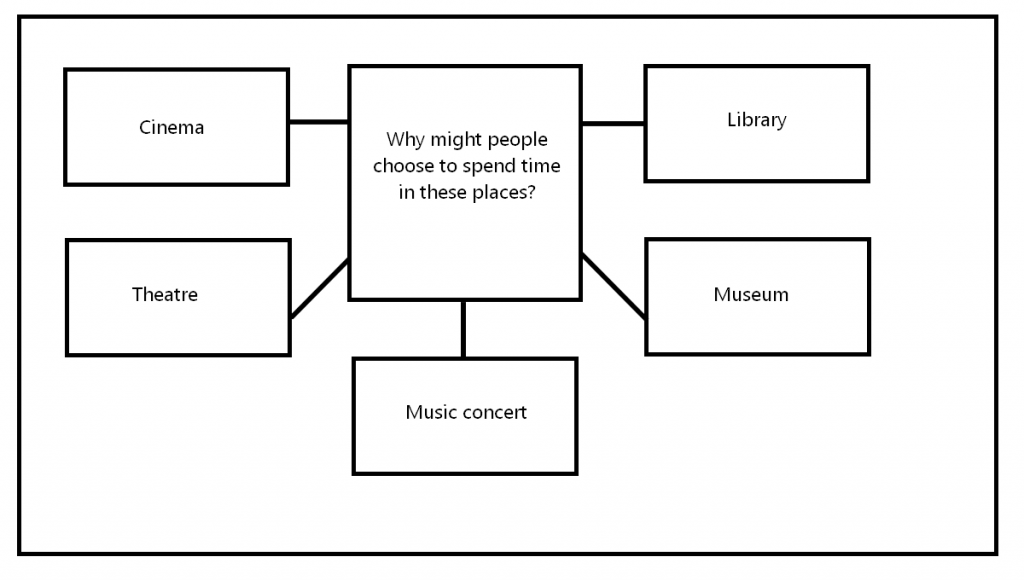 Extra question: which of the occupations is more attractive to younger people?
CAE Speaking Part 3 Useful Phrases
Cinema
Theatre
Music concert
Museum
Library
– Cinema is an affordable and accessible form of entertainment that the whole family can enjoy
– The variety of genres ensure that even the most picky person will find something to their liking
– Knowing 'what's on in the cinema' makes for a great small talk!
– The greatest and highest form of entertainment
– Makes you appear cultured and high-brow
– Nurtures taste for finer things in life
– Seeing your favourite musicians live is the best feeling in the world
– You get to sing along and dance to your beloved tunes
– Making new friends at such event is a doddle even for the most socially-awkward of us
– Older generation might choose to go there to relive their happy youth memories
– Another choice for the culturally-savvy, you can get validation from your friends and get complimented  on your refined taste.
– Get exposure to the wonders of modern art which aims to challenge your understanding of what 'beautiful' really means.
– Yet another great way to socialise with interesting people
– A great choice for people who prioritise learning things over having fun or striking up acquaintances
– If you're a student then this is a great place to do your homework, write your term paper or play truant
– Free computer access

Click to download this CAE Speaking Part 2 Worksheet in PDF. Don't forget to switch to landscape mode when printing!